my camper
https://alongtheray.com/scamp-camper
…with an ever changing view… My cabin these days is a 13' Scamp trailer camper born in 2011. After searching all over for something like it that
Aug-24-2016 00:00:00 -0400
Ray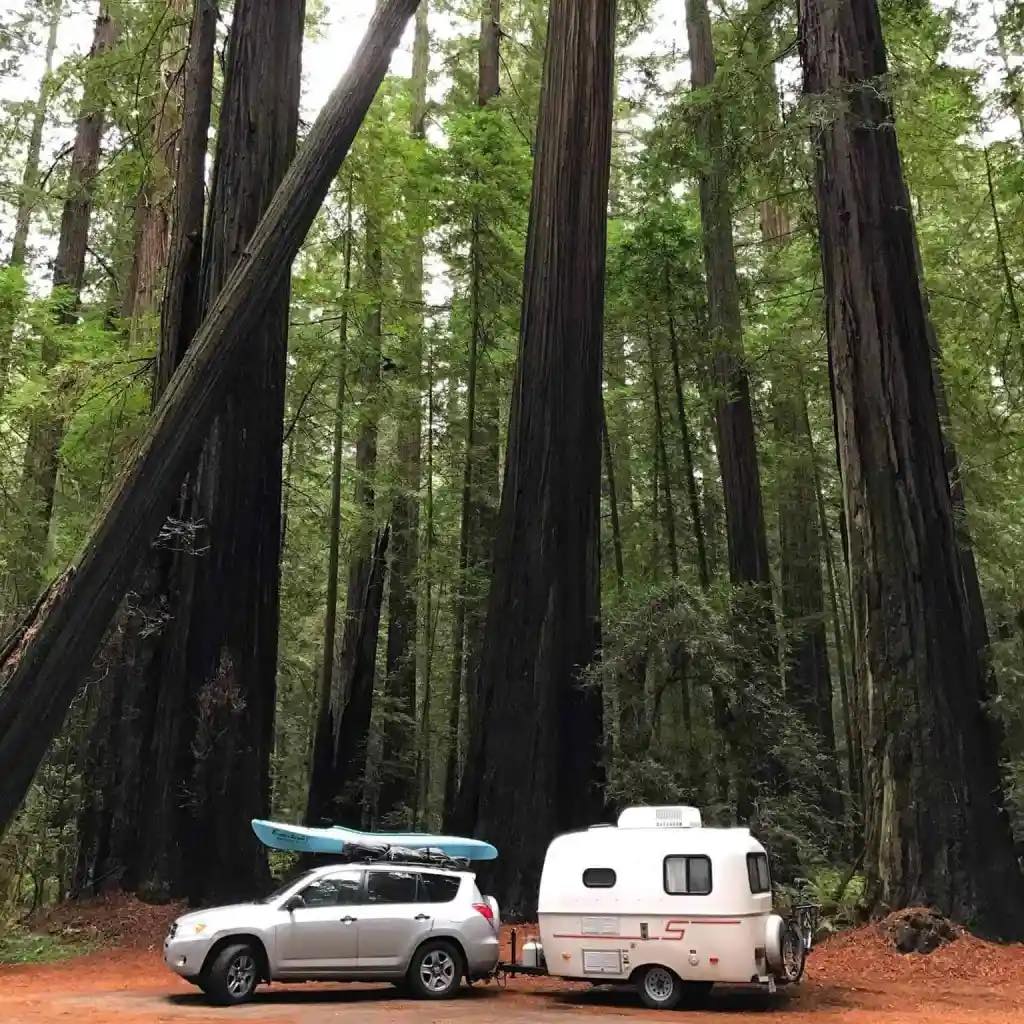 My little cabin with wheels
…with an ever changing view…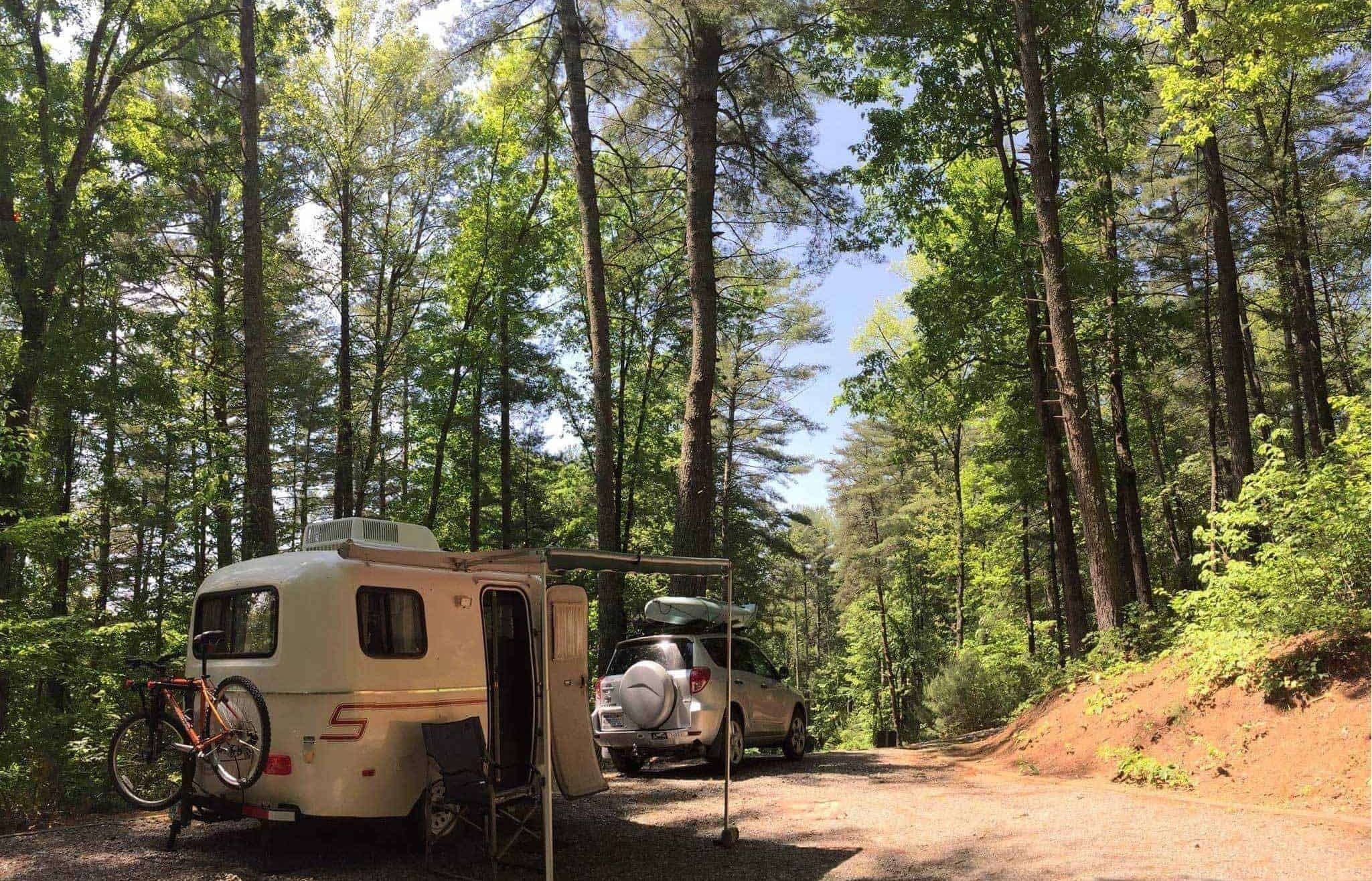 My cabin these days is a 13' Scamp trailer camper born in 2011. After searching all over for something like it that was well cared for, I found it for sale near Detroit, Michigan and drove all the way up there to bring back to Florida. It was well worth the 2,200+ mile round trip because those sort of campers in great shape are hard to find and sell quickly. (It was also a wonderful opportunity for some father & son bonding time with my Dad who came along to help share driving duties.)
I choose the Scamp because it's solid and one of most light-weight campers you can find thanks to its fiberglass shell. I wanted something small and easy to tow so I could go pretty much anywhere and be able to settle in and out quickly with minimal fuss.
Some think it's too small (a friend of mine referred to it as a "freakin' closet" haw!) and it very well may be for some, but it's well suited for me since I only need it to sleep and cook in (whenever I'm not cooking outdoors). It also provides sanctuary during nasty weather. The outside world is my living room and that's all I need or desire.
This particular model has a kitchen with sink, two burner propane stove-top, three-way (battery, electric, and) propane fridge, a couch that turns into a double bunk bed, and a dinette area that turns into a full-size bed. Some models come with bathroom and shower, but I decided against that for more room in the camper. I have a compost toilet that slides under the bed when it's not in use and I often use campground & truck showers in addition to the usual ways one keeps clean in the outdoors (solar showers, extra-large body wipes for quickies, warm water and sponge, etc. etc.).
I modified the dinette area by removing the standard, square table and replacing it with a smaller, round one and adding cushions in the back so it has wrap around seating for more room and flexibility. The inspiration for this came from a great Facebook group for Scampers.
The camper also comes with a furnace, air conditioner, and roof fan, all of which I use very rarely since I am outdoors most of the time. At night when it's cold I have my double size sleeping bag (which fit the bed perfectly!) and blankets that do the job. I occasionally use a small portable Mr. Buddy propane heater to warm things up. The built-in furnace works; it's just too strong (it also uses battery power which I prefer to conserve) and it's not really needed while I'm sleeping. The fantastic fan in the roof works great at sucking out hot air or steam from cooking, etc. It doesn't use much power so I'm pleased with it. For really hot days (Hi, Florida!), the A/C works like a dream — I just have to be able to hook it up to an electrical outlet so it does limit boondocking opportunities.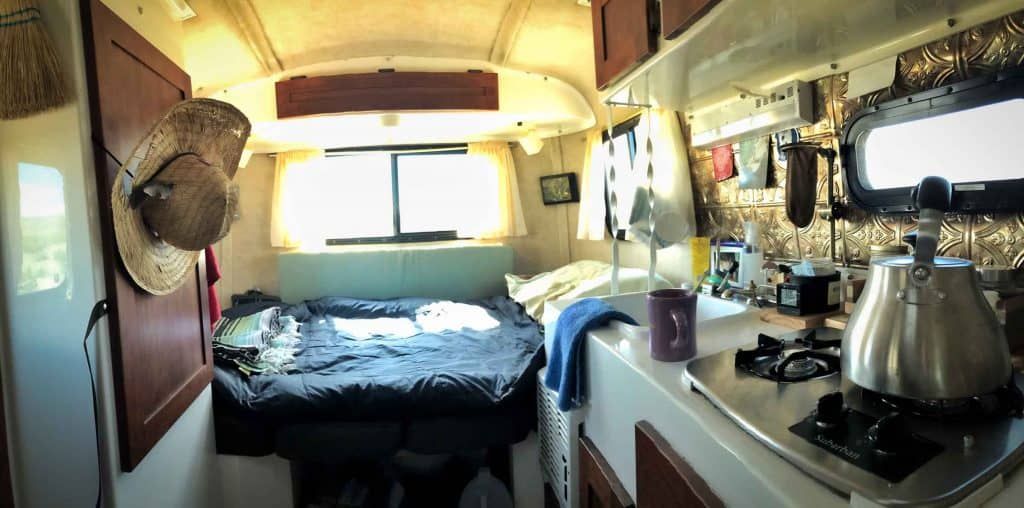 The cozy interior of my cabin in "bed" mode, complete with hot coffee. No, it's not always this impeccably clean. ; )
I have a regular deep cycle marine battery powering the whole shebang. My electrical needs are minimal so I don't require much — just something for the LED lights and to charge up my laptop, phone, etc. For the times I need to top off the battery, I use a 100-watt portable solar "suitcase" kit (with built-in charge controller) that unfolds and hooks up to it. It works very well and its portability allows me to string it into the sun while keeping the camper under shade. The battery also charges while driving or plugged into an electrical outlet. I have a 300 watt Morningstar SureSine inverter hooked up underneath the front bunk seat (with electrical outlet installed for easy plugging into).
In the beginning, I spent hours and hours going over and figuring out an ideal solar setup and realized I was way over-complicating things. Simple is best and it's proven out so far… It's a relief not to have to worry so much about it.
A trusty 2006 RAV4 with all-wheel drive and over 130,000 miles hauls the Scamp. It's an incredibly reliable machine, ever loyal and up to the task of hauling it all around the continent — on and off the road. Even though it's "only" 4 cylinders, it's done a bang up job and has had no issues climbing the mountains and going off-road where my wandering soul wants to go, giving me the capability of camping in some very beautiful out-of-the-way places.
The modifications I added to the RAV4 are: A brake controller to control the electric brakes on the camper, installing a transmission cooler and heavy-duty trailer hitch with the proper electrical connection for hooking up to. Oh, and a crazy driver that steers the whole thing. ; )
UPDATE: A 2011 Nissan Xterra 4WD has taken the place of the RAV4. Bigger, higher towing capacity, and true off-roading/overlanding capability makes it a joy to have. I'll always miss the RAV4 for her trusty and loyal service over the years. Onto you, Xterra!
Having a trailer style camper gives me a great deal of flexibility. I very much appreciate the ability to unhook the camper and go roaming or to town to stock up on groceries, hit up local bookstores & cafes, etc. For the rare times I feel the need, I can put a heavy-duty wheel lock on it. I've only used the lock twice the entire time I've been camping and I probably didn't really need to, but it's a matter of being camp-smart and trusting my gut just to be sure. Peace of mind goes a long way, y'know?
Other than the issues that popped up from the initial "shakedown" cruise when I first took off (trailer brakes needed to be replaced, rear right tail light stopped working, pipe connection to propane tank swapped (squirrel or some nutso chewed a hole in it!), and replacement tires for the RAV4 which wore out faster than expected due to driving quite a bit on gravel roads), the whole thing has been a pure delight. I'm very happy with it.
If you have any questions, go ahead and ask in the comments below. I'd be glad to share what I've learned.
Feel free to browse around my blog for more stories and photos of my travels and the folks I've met thus far. It's been a grand adventure. : )  Thank you for stopping by!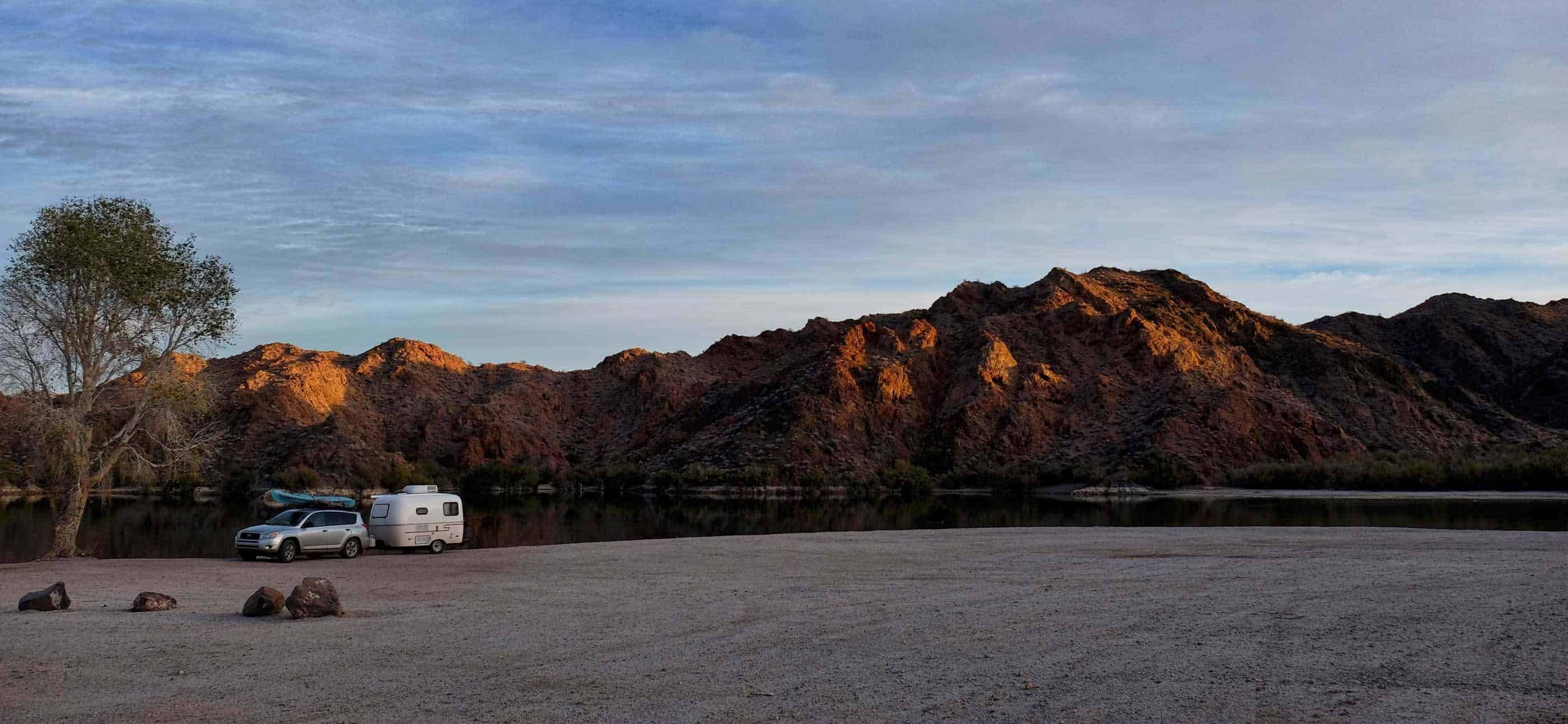 Scamp Camping on the beach of Lake Mead at Telephone Cove, Nevada. Photo © Raymond Hines
(Webmentions are also accepted. WOOT!)