thoughts
camper
health
New bat wings, getting handy, heat intolerance
https://alongtheray.com/new-bat-wings-getting-handy-heat-intolerance
Do I ever stop having thoughts? Nope. Local welder guy put the new Overland System "bat-wing" 180 degree awning on my Scamp and he did a fantastic
Jul-18-2022 22:07:00 -0400
Ray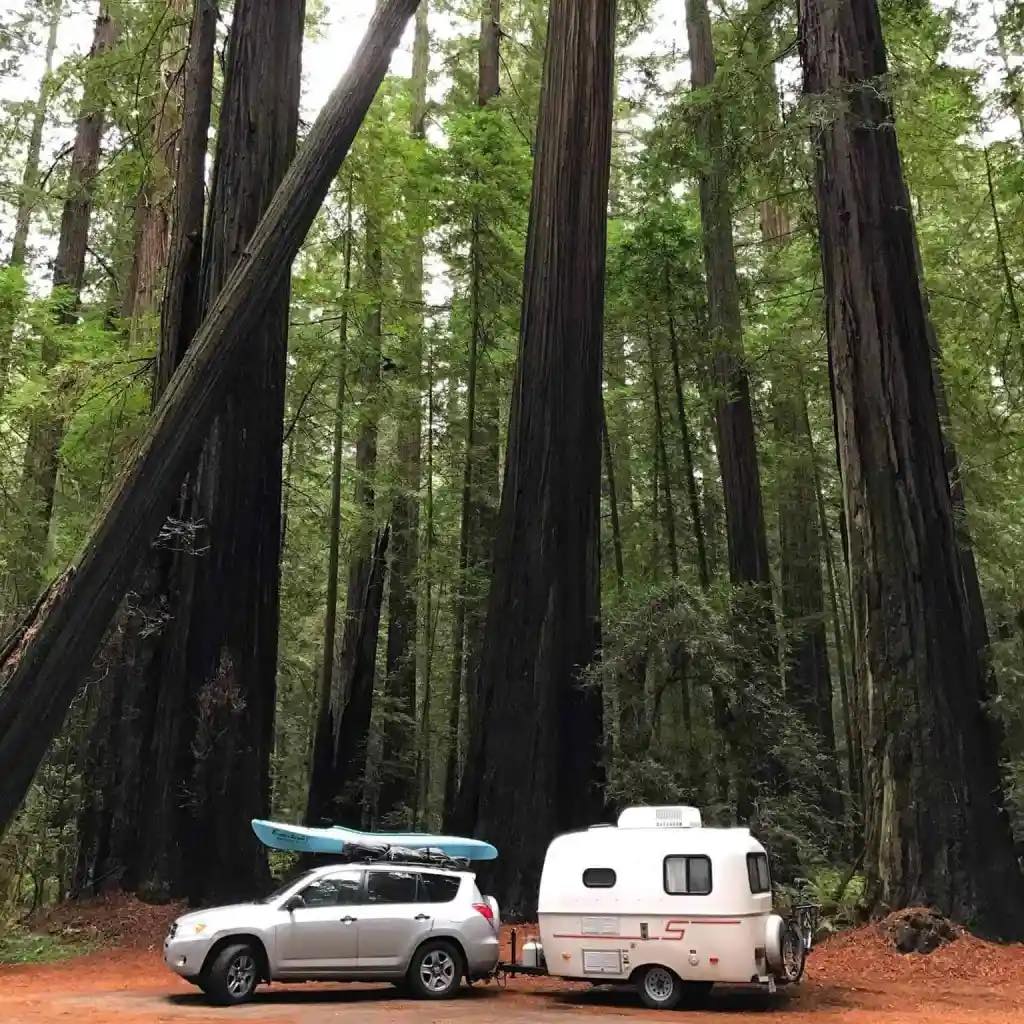 July 18, 2022
Comments
THOUGHTS OF THE MOMENT
New bat wings, getting handy, heat intolerance
Do I ever stop having thoughts? Nope.
..My camper sprouted wings!
Local welder guy put the new Overland System "bat-wing" 180 degree awning on my Scamp and he did a fantastic job. He crafted custom mounts and it's rock solid — something I really needed because I often travel on rugged roads and my last awning fell off.1
These things are typically for vehicles with roof racks to mount 'em on but I thought why not a camper? Typical tiny camper awnings give tiny shade meaning as the sun arcs across the sky, we gotta play musical chairs to stay in the shade.
I unfurled the awning this early evening and it works beautifully. And easily — took less than a half a minute to open it up (and close). Perfect.
Can't wait to start using it!
Oh, you wanna see? Here you go: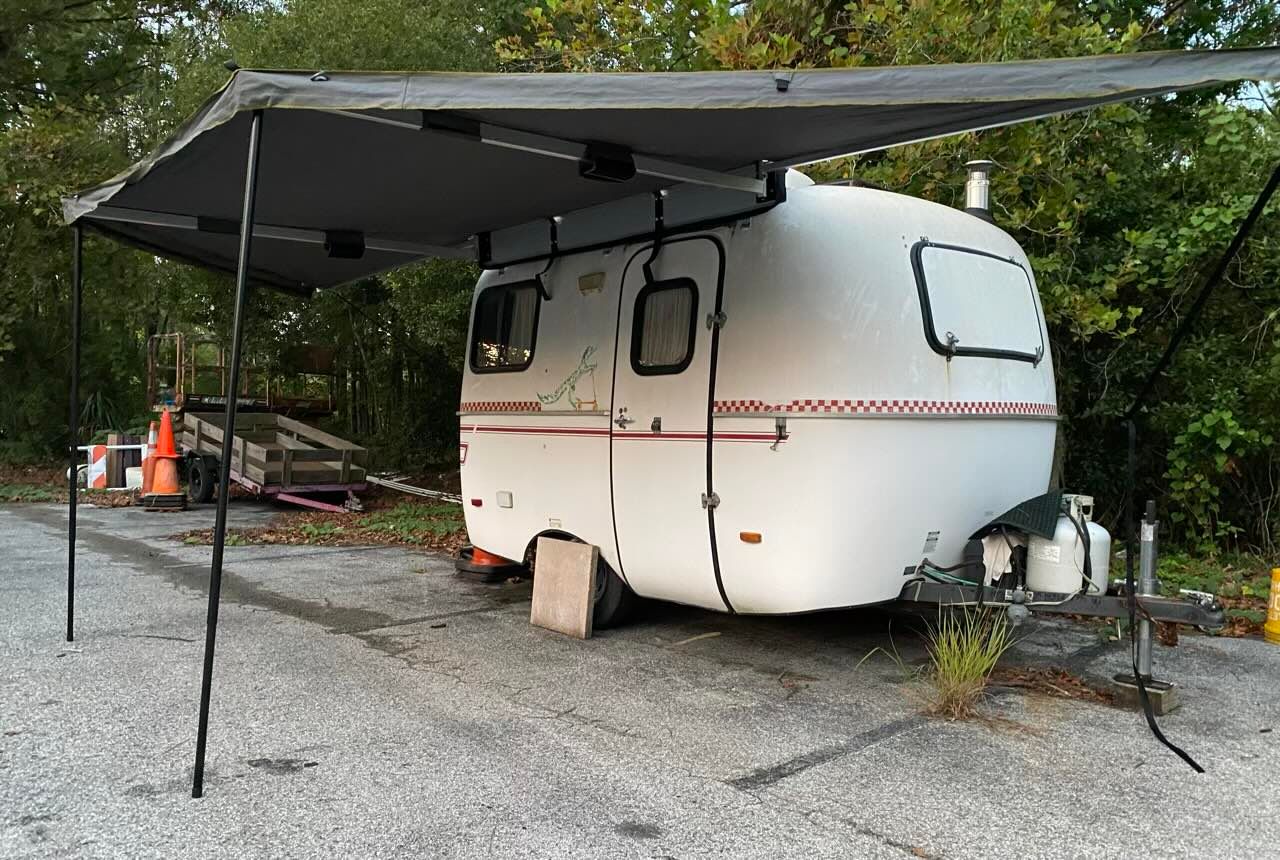 (Ayup, the camper will get a good scrubbing after all work is done on it!)
It's also a psychological boost for my spirit to know we are finally making moves to get back to our beloved wandering life.
UP NEXT: Clean stuff out of the camper and take it over to the RV guy in a tiny town called Waldo to do the rest on my list, including giving the trailer a lift so it sits higher for better ground clearance and crazier adventures!
..I like to think I'm kinda handy
Bought myself a drill for Father's day and gathered up various components to install a bike rack inside the SUV. Before, I stored my bike on a rack on the back of the camper but over time the bike became ruined from a constant pelting of road dust/grime/mud and rain (I tried a cover but it blocked the brake lights so 'twas a no-go).
I'm stoked about it because I'm not a handyman kinda dude but I do like to tinker around and build small projects like this as proof to myself that I have some skills (rawr). Will see how it goes and hope the damage is minimal.
..Heat intolerance
Had a heat intolerance episode2, a first in a while. Ugh. Not sure what to make of it yet. I know it's been extra hot and humid lately, plus I took some Lomatium3 today to avert an itchy throat (mission accomplished).
Had a strong acupuncture session yesterday so that may have had something to do with it — it sometimes takes a couple days for my body to adjust.
Will just have to see how things go esp. with it being a hot summer. I'm very hopeful it's a temporary anomaly because I don't want to have to worry about hot days back at the wandering life.
---
I was slowly making my way down a mountain on a badly washboarded road. About halfway down I happened to look in my side mirror and saw one end of the awning dangling around by a thread. Got out and saw that a metal mount had completely sheered off. Crazy. I ended up ditching the awning because it was such a pain to wrangle with anyway and I hardly used it as a result.↩︎

It's one of those Lyme disease quirks where my body sometimes can't regulate temperature internally on hot days and melts down.↩︎

Long story short, conventional medical treatment for Lyme disease made me much worse so I went to a Traditional Chinese Medicine specialist / acupuncture physician for treatment. I took an array of powerful herbs of which Lomatium was primary. That stuff was amazing and gave me my life back. I keep a bottle of it handy since it's effective for a variety of ailments.↩︎
#&nbsp&nbsp&nbsp#&nbsp&nbsp&nbsp#
(Webmentions are also accepted. WOOT!)
Previous
Moments of bliss are allowed
Next
Coffee under the lights in Newberry-Fl